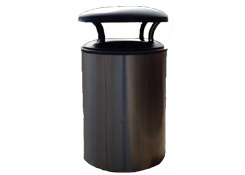 Traditional trash receptacles provide perpetrators an easy place to conceal explosive devices and create maximum damage to innocent bystanders. Blast Resistant Trash Receptacles provide 360° lateral protection from blast pressure and fragmentation and are ideal for use in high-profile settings such as transit stations, airports, stadiums, courthouses, public parks, and anywhere else large crowds form.
BCRs are also deployed by law enforcement and security personnel at special events to quickly store any suspect packages that are discovered. Utilizing this blast mitigating technology while evacuating nearby areas further decreases risk to both the officers and the general public.
Through a partnership with a leading explosive containment technology provider, NABCO offers a line of Blast Containment Receptacles to meet your specific explosive containment rating requirements. All BCR designs have undergone live explosive testing to each model's full capacity rating.
Contact NABCO for more information about BCR features, explosive capacity ratings and options.​
360 degree lateral protection against blast pressure and fragmentation
DHS Safety Act Approved Technology
Complies with ASTM Standards