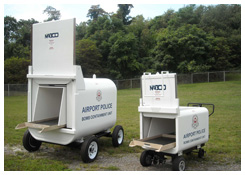 NABCO offers a complete line of containment vessels designed to allow security personnel to quickly and safely contain luggage, letters and packages that have been identified as suspect during screening operations. These units provide an affordable and safe way to contain threats and move them away from populated areas until the emergency response team arrives.
With NABCO's proven containment systems, operators benefit from:
Total containment of fragmentation, blast loads and thermal effects associated with explosive charges
Quick transport away from terminals and conveyance systems—reducing disruptions and saving money
Compatible with all currently deployed bomb squad robotic platforms & portable X-ray systems

NABCO offers four models of Suspect Luggage & Parcel Containment Vessels to meet your specific explosive containment rating & operating requirements. All NABCO SLCV & SPCV designs have undergone live explosive testing to each model's full capacity rating.
Contact NABCO for more information about SLCV and SPCV features, explosive capacity ratings and options.
​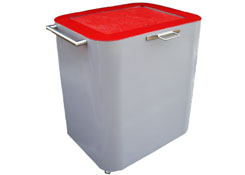 Using the same technology that provides 360 degree lateral protection from trash can explosions, the Protec Table is outfitted with a convenient top opening for quick containment of suspicious objects found during screening of personal belongings. The opening was developed according to the IATA carry-on luggage specifications.